What is a ducted gas heater?
Gas ducted heating systems are commonplace in Canberra due to our freezing winters. Gas ducted heaters re-circulate the air in your home via insulated duct, the air passing through the heater and a gas fired heat exchanger to provide your home with toasty warm air all winter.
How to choose a ducted gas heater for your home
Depending on whether you are replacing an existing ducted gas heater or installing an entire new system there are a few things to consider.
I have an existing ducted gas heater:

Is it in the floor or in the roof?
What is the condition of your existing duct?
Is the return air grille the correct size (new heaters generally need a larger grille)?
Do you have any existing zones

I don't have an existing ducted gas heater:

Your home's floor plan: how many levels are there? What are the dimensions of the rooms (including ceiling height)?
House type (brick, weatherboard etc).
How many people are living in your home
Primary use of each area (sleeping, living, cooking, office).
The ceiling cavity space – if there's limited ceiling space, you might need underfloor ducts instead
The roof type, is it flat, pitched, colorbond or tiled
Ready for a quote? It's easy!
Send us your floor plan and address, it's all we need to quote!
Request a quote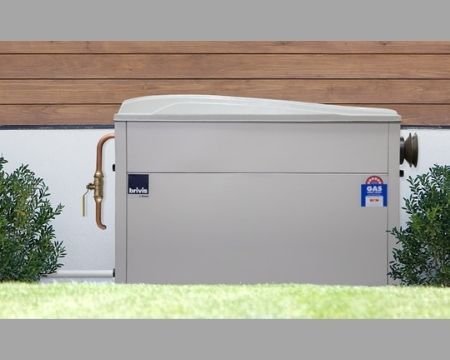 What features do I want?
When choosing your ducted gas heater there are a few features to consider:
Zones: Simple on/off zones allow you to turn off a room or part of your home that you don't want to heat and avoid needlessly conditioning your entire home. Zones are a wonderful idea for areas you don't use regularly, it's worth noting that in most homes can't switch off more than around 30% of your total outlets or you will get air noise through your duct and pressure build up.
Temperature Controlled Zoning: Brivis offer a zoning control system with temperature control across the various zones, ask for more information during the quoting process
Controls: All Brivis and Bonaire systems we install come with a user friendly controller with a 7-day timer
Wifi control: Bonaire and Brivis gas heaters are both available with WIFI control, if you'd like this on your quote please let us know.
Duct: All our gas heaters come standard with R1.0 duct with an option to upgrade to R1.5 duct
What about the duct?
Ask about upgrading your gas heater to R1.5 duct (ducted gas heaters come with R1.0 duct)
Climate Master installers have all undertaken a duct installation course, ensuring a quality install every time to make sure of no energy loss and even air flow.
Running costs & Efficiency
Most old gas heaters are between 2 and 3 stars energy rating. The image below highlights the benefits of upgrading your old gas heater to a high efficiency 6-star gas ducted heater.