What is a ducted gas heater?
Installing ducted gas heating in Canberra is a popular choice, in no small part due to the oft-freezing temperatures during winter. Gas ducted heaters re-circulate the air in your home via an insulated duct, with the air passing through a gas-fired heat exchanger to provide your home with toasty, warm air.
How to choose a ducted gas heater for your home
If you're thinking of replacing an existing system or installing ducted gas heating for the first time, there are a number of points to consider. All of these factors will influence the ducted gas heating installation cost and installation time.
If you already have an existing ducted gas heater:
Ducting can deteriorate over time, so your current ducting will need to be inspected before a new installation to see whether it can be reused or whether replacing it will be necessary.
Newer models of heater will generally require a larger grille, so speak with your consultant to see if your current one is large enough or will need to be replaced.
If you currently have on/off zones designated in your home, are you happy with them? Replacing your ducted gas heater can be an opportunity to rethink which rooms you want heated or kept cool throughout the year. This can be particularly important if the way you use your house has changed over the years since the last installation.
If you don't have an existing ducted gas heater:
Your home's floor plan, the size of those rooms and how many levels you have in your home can influence what sort of system you need installed; large ducted systems may also require three-phase power, which is an additional cost both now and into the future.
The ease or difficulty of installing a ducted system is heavily influenced by whether your house is built out of brick, weatherboard or another material. This influences the space left inside the walls, as well as the ease of accessing it for installation.
The same applies for the type of roofing used in your home; certain styles, such as flat roofing, can make access quite difficult.
Ready for a quote? It's easy!
Send us your floor plan and address, it's all we need to quote!
Request a quote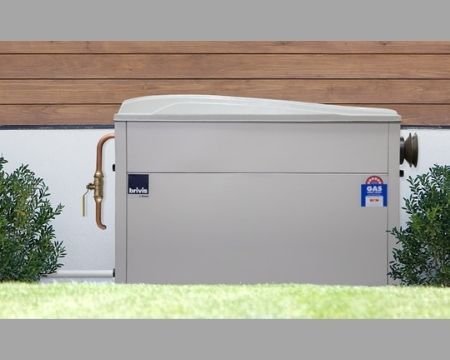 What features do you want included with you ducted heating?
When you're considering gas ducted heating installation, there there are a number of features to consider:
On/Off Zones — Not every part of your home is used equally, so you don't want to waste heat, energy and money warming up all of it at the same time. Simple on/off zones allow you to turn off a room or part of your home that you don't want to heat.
Temperature Controlled Zoning — Brivis offer a zoning control system with individualised temperature control across the various zones. At Climate Master, we can provide additional information during the quoting process.
Controls — All Brivis and Bonaire systems we install come with a user-friendly controller with a 7-day timer.
Wi-Fi Control — Bonaire and Brivis gas heaters are both available with Wi-Fi control, so you can control your system from wherever you want.
Duct — All our gas heaters come standard with R1.0 duct, with an option to upgrade to R1.5 duct. Climate Master installers have also undertaken a duct installation course. We ensure a quality install every time, to make sure there's no energy loss and even airflow.
What about the duct?
Ask about upgrading your gas heater to R1.5 duct (ducted gas heaters come with R1.0 duct)
Climate Master installers have all undertaken a duct installation course, ensuring a quality install every time to make sure of no energy loss and even air flow.
Running costs and efficiency
Most older gas heater models are between 2 and 3 stars energy rating — not every energy efficient by modern standards. However, newer ducted gas heaters typically have a much higher efficiency of around 6 stars; here at Climate Master, we aim to provide you with the most energy-efficient model possible.
Gas ducted heating installation from Canberra locals
Looking to get ducted gas heaters installed within your home? Need to book maintenance for an existing system? No problem! Get in touch with the local experts at Climate Master today. We're able to provide you with a fuss-free quote and ensure that you've got all of the information you need. So get in touch with the team today to find out more!
FAQs
How do you install ducted gas heating?
Ducted gas heater installation consists of two main elements — the central heating system itself and the ducts which carry this warmth around your home. The ducts are usually placed throughout the roof or walls of your home, made of durable and insulated material to help minimise any heat escaping before it's transported to its destination.
The work involved varies from house to house — if you live in a brick home, modifications may need to be made to fit them in — but these kinds of complexities are considered well before installation starts.
After installation, you'll also need to book a ducted gas heater service about once a year. This will help ensure the unit is working properly, spot any gas leakages, and determine whether the ducts have deteriorated at all.
How long does it take to install ducted heating?
It varies from house to house. Installation is influenced by a few different factors, including the size of the house, the brand you opt for, how many different heating units are required (large houses may require more than one) and the number of vents required. If modifications to the house are required, this may also lengthen the process. However, we can generally get your ducted gas heater installation up and running within a few weeks. The installation itself will usually only take about a day, but we'll first do a detailed inspection and consult to determine the scope of work.
This work isn't necessarily reduced if you're replacing an existing system. Vents and ducts alike can sometimes be reused — but depending on the model of the heater, sometimes it's necessary to replace them. Our team members will be able to talk you through the process.
Where should ducted heating vents be placed?
Vents can be installed in the walls, ceiling or floors of your home. Our team will be able to advise you on the best placement for your home, both for aesthetics and efficacy.
In terms of room placement, they're generally best placed in the rooms that will be occupied most frequently, such as living rooms and bedrooms. This will help maximise the energy efficiency of your ducted gas heaters. After all, there's no need to be heating rooms or thoroughfares that aren't being used on a regular basis!
How many kW do I need for my ducted heating unit?
There's a simple formula for determining how many kW are necessary for your home — just multiply the square metres by 130 watts. For example, if your home is 200m2, multiply it by 130 watts — this would mean that you need a 26kW unit. However, make sure you consult with our expert team before making any purchases. They'll be able to discuss the most appropriate unit for your needs with you.