What is an Evaporative Cooler
Evaporative cooling is one of the most efficient ways to cool your home and in the dry, hot Canberra climate it is one of the most effective.
The feel of an evaporative cooler is often compared to a coastal breeze, we always feel cooler by the water when there is a breeze and that's what an evaporative cooler brings to your home.
The great part about evaporative cooling is it operates with your home open, so you don't have to feel locked away on a hot summers day.
Evaporative coolers start the process from outside the house, the unit sits on the roof and draws air in through wet cooler pads, cooling the air the same way the air blows in from a coastal breeze. The cool air is then distributed throughout your home via duct.
How to choose an Evaporative Cooler for your home
If you're looking for a new evaporative cooler there are a few things to consider, depending on if you are replacing an existing system or installing a new one.
I have an existing evaporative cooler:

What is the existing brand and model (send us a picture if you can)?
What is the condition of your duct?
Is your home single-storey or two-storey?

I don't have an existing evaporative cooler:

A floor plan of your home: how many levels are there? What are sizes of the rooms (including ceiling height)?
The ceiling cavity space – we can determine this when we complete a site inspection
Access to water supply
Electrical switchboard
Ready for a quote? It's easy!
Send us your floor plan and address, it's all we need to quote!
Request a quote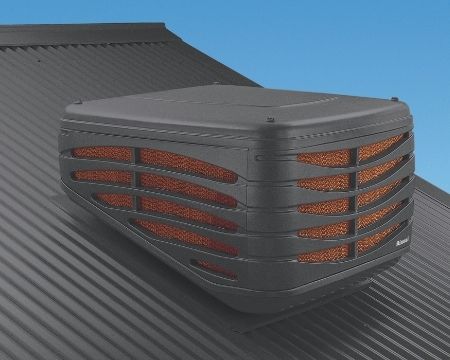 What features do I want?
Warranty: Warranties vary across brands, it's important to have your product services regularly to maintain your warranty. The details of each brands warranty will be detailed on your quote!
Controls: All Brivis and Bonaire systems we install come with a user friendly controller. The great thing about evaporative coolers is they cool pretty much instantly so no need to set timers!
Wifi control: Our range of Bonaire and Brivis evaporative coolers have an option to add a Wifi module, ask about it when requesting a quote!
Duct: All Evaporative coolers come with R1.0 duct!
Running costs & Efficiency
Evaporative cooling has the cheapest running costs of any whole-of-home cooling solution. The coolers use minimal electricity and recirculate water until it's no longer clean enough to use. You can find out more on running costs from the sustainability Victoria website here.
How do I keep my evaporative cooler clean?
Climate Master have a dedicated service department with factory trained service technicians – so we can maintain your evaporative cooler for you. Generally, we recommend your cooler be serviced every year to ensure the air coming into your home is cool and clean all summer.