What is a Split System system?
A split system air conditioner is a two part air conditioner (hence the term split!) that has an indoor unit and an outdoor unit. In Canberra, we only use reverse cycle split systems, so they can all heat and cool.
The outdoor unit does the hard work, creating cold in summer and heat in winter, sending it to the indoor unit via copper pipe. The indoor unit acts as a fan, blowing cool or warm air into your room, often (in better systems) via a filtration or purification system.
Why buy a split system for your home
Split systems are a very popular air conditioner, they won't suit every home but often provide a great solution in a variety of situations. A split system might suit you if:
Your home has a flat roof or no roof access and cannot fit a ducted system
You want each room in your home to act independently – giving temperature control and on/off operation in every room (Don't forget this can be done with a ducted system also)
You want to heat and cool a single living room of up to 70 square meters but not the rest of the home
You want a cost effective solution to provide heating and cooling
You want Air Purification built into your air conditioning system
Ready for a quote? It's easy!
Send us your floor plan and address, it's all we need to quote!
Request a quote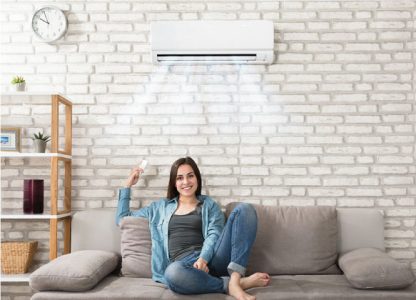 What features do I want?
When choosing your ducted reverse cycle air conditioner there are a few features to consider:
Filters and Air Purification: If you suffer from asthma or allergies then you should look further into what systems provide genuine air purification, rather than just filtration. Make a mention of your interest in Air Purification when you request a quote.
Controls and WIFI: All split systems come with a controller that has built in timers, these are fairly standard on most units. Some systems come with WIFI built in and you can add a WIFI module to most units that Climate Master stock
Attractive design: With a large variety of brands and models available, aesthetics should be a part of your decision making process. At Climate Master we offer only the best brands, so choosing the system you like the look of comes with the safety of knowing it's a quality product.
Heating and Cooling: All Climate Master split systems are reverse cycle and provide an efficient way to both heat and cool a room
More than 1 room to cool?
Multiple split systems is a great way to heat and cool your home. With multiple split systems, comes multiple outdoor units sitting around the outskirts of your home. If the aesthetics of having multiple outdoor units around your home concerns you, then a multi-head system may be for you.
A multi-head split system operates multiple indoor units inside from a single outdoor unit. Depending on your home and your requirements this can be a great solution. Fill out our quote request form and attach a copy of your floor plan and we can provide you with a hassle free quote for a multi-head split system.
Running costs & Efficiency
All the Split System air conditioners Climate Master offer are very efficient. Heating and cooling an enclosed space has obvious benefits and for every unit (kW) of electricity used they generally produce 3-3.5 kW of heating or cooling.
You can view the government's energy rating website for more information about specific models. This website also has a calculator to help you calculate running costs and compare models.