WHAT IS A SPLIT SYSTEM AIR CONDITIONER?
A split system air conditioner is a two-part air conditioner with a separate indoor and outdoor unit attached by copper piping — hence the name "split system". The outdoor unit is responsible for creating cool air during the warmer months and heat in winter. The indoor unit then acts as a fan, blowing cool or warm air into your room, usually via a filtration or purification system.
WHY OPT FOR A SPLIT SYSTEM AIR CONDITIONING INSTALLATION IN CANBERRA?
There are a variety of reasons that you might opt for split system aircon installation. Our Canberra split system air conditioner installation cost can be substantially cheaper than investing in an entire ducted system, but there are other compelling reasons:
Useful for smaller homes

—

It's particularly popular for apartments and small homes that may not have roof access and can't fit a larger ducted system.

Temperature control of individual rooms

—

You may want each room in your home to act independently, to provide temperature control and on/off operation in every room. While this is achievable with ducted systems, that may not be a practical option for your home, depending on whether you have adequate roof or underfloor access.



Save money with temperature control

—

You may want to heat and cool a single living or central room in the house but not necessarily the rest of the home. Alternatively, you may want a cost-effective solution to provide heating and cooling throughout a smaller home.

Split system air conditioners are far more energy-efficient than other air conditioners. They use less energy to cool a room, leading to major cost savings on energy bills.

Quiet operation

— The indoor unit of a split system air conditioner is typically much quieter than other types of air conditioners. This is because the compressor, which is the noisiest component, is located outside.

Easy installation

— Split system air cons are relatively easy to install, especially compared to central air conditioning systems. They do not require any ductwork or major modifications to the building structure.

Flexible placement

— The indoor unit of a split system air conditioner can be mounted on a wall or ceiling, giving you more flexibility for the installation location. This makes them ideal for homes or buildings where space is limited.

Better air quality

— Split system air conditioners come with filters that can remove dust, pollen and other allergens from the air, leading to improved air quality and a healthier indoor environment.
You want air purification built into your air conditioning system, which isn't necessarily included as a default on ducted systems.
Ready for a quote? It's easy!
Send us your floor plan and address, it's all we need to quote!
Request a quote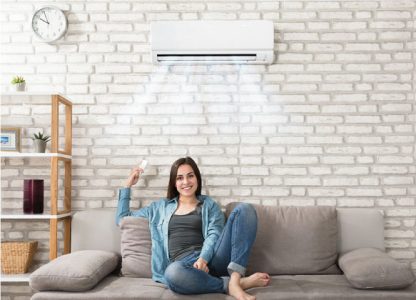 WHAT FEATURES DO YOU WANT IN YOUR SPLIT SYSTEM AIR CONDITIONING?
As Canberra has such variable weather throughout the year, when we undertake a split system air conditioning installation in Canberra, we only use reverse cycle split systems. These can heat and cool, maximising efficiency and ensuring you're comfortable year-round. However, there are also other considerations when you're choosing a split-system air conditioner:
Filters and air purification

— If you suffer from asthma or allergies, you should consider a system that provides genuine air purification rather than just filtration.

Controls and Wi-Fi

— Built-in timers and Wi-Fi control are increasingly popular choices for air conditioner controls. Timers allow you to preset when you'd like your air conditioner switched on, while Wi-Fi allows you remote access, letting you switch the air conditioner on and off whenever you want.

Aesthetically pleasing design

— Given the large variety of brands and models available on the market, aesthetics should be a key part of your decision-making process. It's easy to find a system that matches your interior decor and will enhance the look of the room it's in.
MORE THAN ONE ROOM TO COOL?
When you look at how to install a split system, it's easy to assume that it's best suited to small houses or apartments with one centralised room. But in truth, multiple split systems can also be a great way to heat and cool your home, particularly if you want highly personalised control over different areas.
In these instances, a multi-head split system can be a perfect solution. A multi-head split system operates multiple indoor units inside from a single outdoor unit, minimising both exterior noise and the disruption to your outdoor space.
FAQS
WHAT ARE THE MAINTENANCE REQUIREMENTS AND COSTS ASSOCIATED WITH SPLIT SYSTEMS?
Split or ductless air conditioning systems are generally easy to maintain and have lower maintenance costs than traditional central air conditioning systems. Here are some of the maintenance requirements and split system aircon costs you can expect from your unit:
Regular cleaning

— The indoor and outdoor units of split systems should be cleaned regularly to remove dust and debris accumulating on the filters and coils. Simply wipe down the units with a damp cloth or use a vacuum cleaner to remove dust and debris.



Filter replacement

— Replace the split system filters every few months, depending on how often the system is used, by contacting our service and repair team at Climate Plus.

Coil cleaning

— The coils in split systems can get dirty over time, reducing efficiency. Regularly cleaning the coils will help the system run smoothly and prevent breakdowns.



Refrigerant levels

— The refrigerant levels in split systems should be checked regularly to ensure their optimal functioning. Low refrigerant levels can lead to reduced cooling capacity and increased energy consumption, causing skyrocketing energy bills you certainly don't need!

Professional maintenance

— We strongly suggest organising a professional service with our dedicated service and repair team at

Climate Plus

once a year. This can help identify any potential issues before they become major problems down the line.
At Climate Master, we pride ourselves on offering highly efficient split-system air conditioners. For every unit (kW) of electricity used, our systems produce an average of 3-3.5 kW of heating or cooling.
The cost of filter replacement and regular cleaning is generally lower. However, if the system requires significant repairs or replacement of components, the cost can be higher. We strongly recommend that you budget for these potential expenses and consider the long-term savings in energy costs and improved comfort when deciding on a split system.
WHY CHOOSE CLIMATE MASTER FOR SPLIT SYSTEM AIR CONDITIONING INSTALLATION IN CANBERRA?
Climate Master has made a name for itself as Australia's trusted company for split system air conditioning installation in Canberra for our affordable prices and decades of experience. Our reputation precedes us, with our Google My Business page being the most reviewed in all of Canberra — we've made your decision of where to install your split system air con easily. Our sister company Climate Plus is here to carry out your split system cleaning, servicing and maintenance to the highest standards. That way, you can save on energy bills and help your split system air con last the long haul.
TALK TO THE LOCAL EXPERTS
For more than 25 years, Climate Master has provided our Canberra customers with the expertise they need to make informed decisions about their air conditioners. Get in touch with our team today to find out how much it costs to install a split aircon at your home, so you can get your home to the temperature you want. And if you're in the market for something else, explore our full range of heating and cooling systems to find one that suits your needs.